December 14, 2009 -- In what is being calling as possibly 'the biggest season finale yet for Dexter' by the Chicago Tribune today (December 14), last night's HBO episode (December 13) was a real blood bath. Beyond that, I don't want to spoil everything by letting the cliffhanger's particulars out of the bag (tune in for a rerun instead).
What I do want to say is that this popular cable television show doesn't mess with Southern California no matter what happens or has happened on the small screen.
Right, Dexter?
The Los Angeles area city of Long Beach -- filling in for Miami -- is a fine background for the quirky TV show, with the Belmont Shore enclave suiting t
he hit Showtime show's killer instincts with lots of beach activity.
Consider Alamitos Bay, where daring skaters show off on the cement walking/riding path (painful if you take a fall) while Belmont Memorial Pier provides free fishing (poor fish!).
Want a sport that doesn't require much hard core equipment and/or chance of blood being spilt?
Get in on a game of beach volleyball, where the sand can be a trap if you don't treat it right.
Then there's the ultimate jet skiing to be had at Belmont Shore. But, be careful of the launch ramp. It's a real, uh, challenge -- and that's not necessarily a good thing, depending on who you are.
Scared? Take your hound along where he/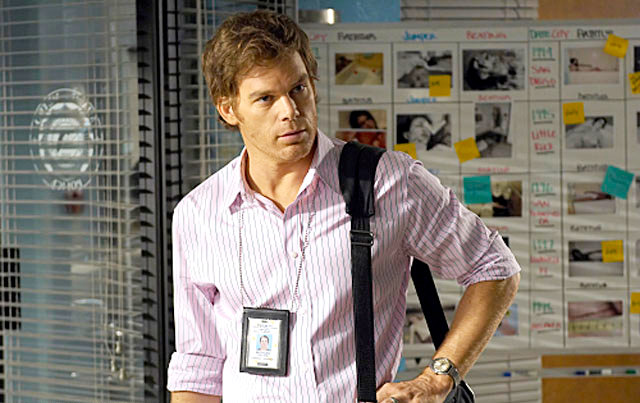 she is free to roam, off-leash (translation: free from any worry whatsoever) in the dog beach zone.
Do I sound a bit paranoid? Have you SEEN Dexter? Do you know what it's about? If not, watch the John Lithgow video below about his take on the show and also tune in as soon as you can. After that, hightail it to Long Beach to check out all the exhilarating action in person.
P.S.
J

ohn Lithgow is offering a live Dexter video chat at 3 p.m. ET. Take part to talk about last night's finale which was total insanity!
Creepy John Lithgow is a real killer