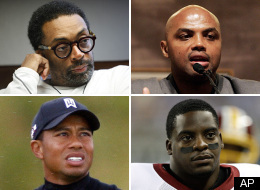 More athletes and celebrities are beginning to weigh in on the fallout from Tiger Woods' sex scandal, offering advice or just adding another opinion to the mix.
Charles Barkley and Spike Lee say in an upcoming episode of "With All Due Respect" that they are worried about Woods. Barkley says the golfer has changed his cell phone number, which Barkley believes is a mistake. Celebrity friends are "the only people who understand what it's like," he says. The Hall of Fame power forward wants Woods to know that "we love you. If you need anything, pick up the phone."
Lee added that "if Charles Barkley and Michael Jordan can't get to him, and those are his boys, then other people are making bad moves."
Meanwhile, Washington Redskins running back Clinton Portis congratulated Woods on his ability to juggle so many mistresses undetected for such a long stretch of time:
" You know, most of the time there's one or two, and you can't keep that a secret. So if he can balance 14 and keep it a secret, congrats. You know, at least he knows what he wants. He don't discriminate, he's not against people, he don't care what your job, what your background is....He knew what he was after."
One person who likely won't be weighing in is CBS golf analyst Ian Baker Finch, who said, "If I say one word about Tiger I will get fired."