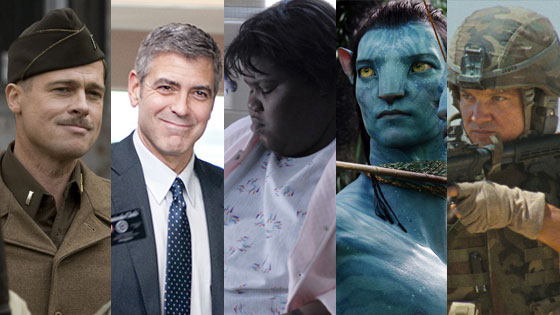 The nominations for the "The 67th Annual Golden Globe Awards" will be announced at approximately 8 a.m. ET/ 5 a.m. PT on Tuesday. John Krasinski ("The Office"), Diane Kruger ("Inglourious Basterds") and Justin Timberlake (nothing specific, just ubiquitous) will join Hollywood Foreign Press Association President Philip Berk to reveal this year's contenders.
Seven things to look out for:
1) Will the Big Boys Get to Play? Hollywood is on pace for a record year, and is almost a lock to pull in more than $10 billion at the box office for the first time in the industry's history. In recessionary times, people are turning to Hollywood for distraction. If the right films get chosen at the Golden Globes and the Oscars, viewers could transform the show into a bigger ratings event. Such awards shows do well when blockbusters like "Titanic" get nominated. They don't do as well when the leading contenders are little-seen critical darlings.
2) Field of Dreams. The Golden Globes can help viewers get some idea which way the Oscars are leaning, though the picks often differ in significant ways. This year, the best-picture Oscar field was expanded from five films to ten, so the race is wide open. The Globes have long selected ten or more films broken into two categories: best drama and best musical or comedy. Usually, the field gets narrowed down from the Globes to the Oscars. This year, many more of the films that get picked for Globe nominations will have a leg up in getting into that Oscar field of ten.
3) The Overdogs. Most observers think these films will get nominated for top awards: "The Hurt Locker," "Precious: Based on the Novel 'Push' by Sapphire," "Up in the Air," "Up," "NIne," "The Princess and the Frog," "Julie & Julia," "An Education," "A Serious Man." If one or more of these films is left out, it will be something of an upset, and maybe even a crying shame.
4) The Underdogs. Most Award-show watchers say these films have an outside chance of landing some nominations: "(500) Days of Summer," "Inglourious Basterds," "Invictus," "Coraline," "Where the Wild Things Are," "Fantastic Mr. Fox," "Sugar," and "Bright Star."
5) Sci-Fi Snubs. Award show voters often don't take genre films–specifically sci-fi–seriously. But some of 2009's most well-received films, by the critics and the public, were sci-fi movies. Will "Star Trek," "District 9″ and the big-budget "Avatar" get recognized or dissed? Set phasers on stun.
6) Host Vs. Hosts. This year's Golden Globe telecast will be hosted by British comic Ricky Gervais. Will he be able to out-MC the co-hosts of the Oscars, Alec Baldwin and Steve Martin? The Globe nominations will give viewers some indication of the material he'll have to work with–and the films and actors he'll get to make fun of. If Alec Baldwin or Steve Martin get a nod for a Globe of some sort, the fun may be just beginning.
7) Female Directors. "The Hurt Locker" (Kathryn Bigelow), "Bright Star" (Jane Campion) and "An Education" (Lone Scherfig) all had female directors–and all three critically-acclaimed films have a chance of getting best director nods. Only three woman have ever been nominated for the best director Oscar: Lina Wertmüller for "Seven Beauties" (1976), Jane Campion for "The Piano" (1993), and Sofia Coppola for "Lost in Translation" (2003). All three lost. Barbra Streisand won a Best Director Golden Globe (for "Yentl" in 1983), and only two other women have ever been nominated - Campion for "The Piano," and Coppola for "Lost in Translation." If Bigelow or the others get nods, they could be on their way to award-show history.