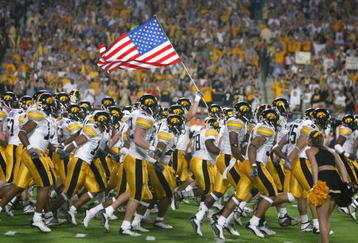 I will be the first to admit I can't stand the Bowl Championship Series (BCS) system. I often think that the Bull Crap System would be a much better description.
This year is a bit unusual in that five teams finished the regular season with perfect records—Alabama, Texas, Cincinnati, TCU, and Boise State.
Yet, in their infinite wisdom, the college football "powers that be" have decreed that only two of these schools can compete for the National Championship.
Alas, Cincinnati, TCU, and Boise are just the latest teams to be screwed by the BCS. They join a long line of schools that have been cheated out of an opportunity to compete for a national title.
However, while I vehemently object to the entire BCS system relative to selecting the champion, in the case of the 2009 Iowa Hawkeyes, the BCS got it right.
The Iowa Hawkeyes will face Georgia Tech in the Orange Bowl in Miami on Jan. 5, 2010. Based on their entire body of work, Iowa deserved to go to a BCS Bowl game.
Us outsiders can only presume that the Orange Bowl bid likely came down to either Iowa or Big 10-rival Penn State. The relative strengths and weaknesses of these two schools in regard to bowl worthiness has been analyzed ad infinitum ever since both teams completed their regular season schedules way back before Thanksgiving.
Both Iowa and Penn State finished at 10-2 overall and 6-2 in the Big 10—in the Top 14 of the final BCS standings—making them eligible for an at-large BCS Bowl. Both teams have dedicated fan bases that would have traveled in droves to Miami to support their teams. Both teams could point to decent television ratings at some point and time in recent history.
But there certainly were differences between these two. Most importantly, you had Iowa's head to head win back in September at Happy Valley. Penn State could counter that by pointing out that Iowa finished losing two of its last three games.
The Hawkeyes also gave Ohio State all they could handle, falling in overtime at Ohio Stadium in the second to last game of the season. On the other hand, Ohio State posted a convincing 24-7 win over Penn State at Beaver Stadium.
The non-conference schedules were also different. Iowa could point to quality wins against Bowl-bound in-state rival Iowa State on the road and Pac-10 runner-up, Arizona, at Kinnick Stadium. Iowa also posted gutty road wins at Wisconsin and Michigan St.
Conversely, Penn State's best non-conference win came against a Temple team that finished a surprising 9-3, but out of the final BCS Top 25. Penn State also played Syracuse, Akron, and Eastern Illinois out of conference.
But, Penn State's ultimate wild card was, of course, legendary coach Joe Paterno. As much as Iowans love Kirk Ferentz, at least at this stage of his career, Ferentz just doesn't measure up to Paterno in terms of national cache. It was impossible to quantify the Paterno factor in the Bowl selection equation.
Primarily due to its tougher schedule and head-to-head win, Iowa finished No. 10 in the BCS rankings, while Penn State finished in the 13th spot. I just don't see where Penn State can make a credible argument; the program had its chance on home turf in September and quite simply blew it.
Interesting that this year the 10 BCS Bowl spots went to teams ranked one through 10 in the final BCS rankings. While I love a good controversy, all 10 BCS teams are deserving of their Bowl bids.
So, at last, some sanity has been introduced to the proceedings. It has to be very gratifying to the Iowa program and its fans to think that the BCS Bowl bid probably was decided on the field when Iowa beat Penn State on that rainy night back in late September at Beaver Stadium.
I think that Jim Garrison, of JFK fame probably said it best: "Let justice be done or the heaven's fall". Justice was done, in this case.