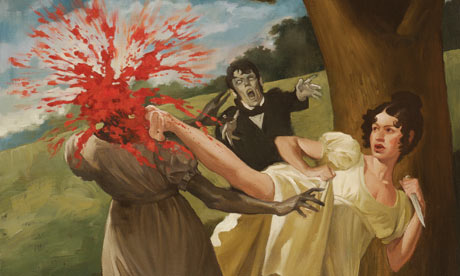 She's been a princess, a senator, a freedom fighter and, most recently, a a grieving widow. Next up: zombie slayer. Natalie Portman is set to produce and star in an adaptation of Jane Austen's "Pride and Prejudice." No... that's not right. She's set to produce and star in an adaptation of Seth Grahame-Smith's zombified remix of Jane Austen, "Pride and Prejudice and Zombies," Variety reports. There. That's better. The planned big screen adaptation joins a previously announced graphic novel retelling of the story.
For those who haven't checked it out, "Pride and Prejudice and Zombies" takes Austen's original work and introduces the walking dead into the mix. The story still focuses on the early 19th century social wranglings of one Elizabeth Bennett -- Portman's role, 'natch -- but it's all interspersed with moments of serious ass-kicking. Bennett is no delicate flower; in Grahame-Smith's take on the story, she's a blade-wielding zombie slayer who is just as comfortable navigating the social minefield of a grand ball as she is wading through bloody entrails.
I have to say, I'm not terribly confident in this idea. The book is great fun to read thanks to Grahame-Smith's deft fusion of Austen's 19th century language and recognizable zombie tropes. I'm just not sure it's something that will translate to the screen. The risk here is that we'll end up with nothing more than a period zombie flick. While it's certainly not a terrible idea, I fear that an adaptation will cheapen the appeal of the book, which so effortlessly mixes classic literature with modern horror.
Portman will produce "Zombies" under her handsomecharlie banner, along with Darko Films' Richard Kelly, Sean McKittrick and Ted Hamm. The actress's handsomecharlie partner Annette Savitch had this to say: "Natalie and I are longtime passionate fans of Jane Austen's books and this a fresh, fun and thought-provoking way to approach her work. The idea of zombies running rampant in 19th Century England may sound odd, but it lends a modern sense of urgency to a well known love story."
Have you read "Pride and Prejudice and Zombies"? Do you think there's a danger of something being lost in the translation from book to film?