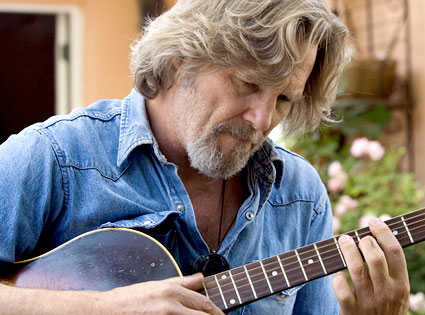 The Golden Globes are over.
A folksy looking and sounding
Jeff Bridges
(above, in
Crazy Heart
), not
George Clooney
(for
Up in the Air
), got the chance to thank family (including father
Lloyd Bridges
and his mother, who died last year), friends, and co-workers. Although Bridges' win wasn't a total surprise, many of us were expecting George Clooney, who looks more like the type of guy the Hollywood Foreign Press Association would go for.
After all, they chose
Sandra Bullock
for the box-office hit
The Blind Side
,
Meryl Streep
for the box-office hit
Julie & Julia
, and
Robert Downey Jr
for the box-office hit
Sherlock Holmes
.
Crazy Heart
, a drama about an aging country singer, has grossed about 1/1000th of what those movies made.
Up in the Air
, though hardly a gigantic hit, is doing quite well at the box office, and as I said before, George Clooney is, well, George Clooney.
The real big surprise of the evening, however, was
James Cameron
's win. Again, that wasn't a
total
surprise, mind you, but I believe that most people (including winner Cameron) were expecting to hear the name of
The Hurt Locker
's
Kathryn Bigelow
despite her movie's meager $12 million at the domestic box office. She'd have been a female best director winner (the second one, after
Barbra Streisand
), and it'd have shown that HFPA members are
almost
like movie critics in their discerning taste.