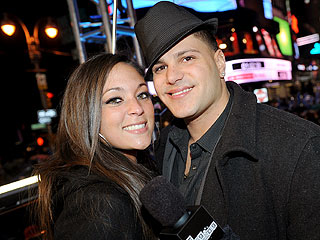 After falling for each other on the hit MTV reality series
Jersey Shore
,
Ronnie Magro
and
Sammi "Sweetheart" Giancola
tell PEOPLE that they're still together — and it's serious!
"I care about her deeply and I see it going for a long time," Magro says. "I don't really want to jinx anything [but] I love being with her. I have a best friend that's my girlfriend, which is really hard to find."
Seconds Giancola: "I'm very happy and content with my life right now. Things are just amazing and I'm just gonna go with it."
Neither of them expected to leave the beach house in Seaside Heights, N.J., in a relationship — but to hear Magro tell it, the attraction was something they couldn't deny.
"Her legs definitely caught my eye and then it just went from there," he says with a laugh, adding that it didn't bother him that he wasn't able to hook up with local girls the way his single roommates did. "I have the best-looking girl and I'd rather [be with Sammi] than bring home a lot of disasters like
Mike
and
Pauly
!"
Giancola says that she doesn't miss single life either. "Ronnie does a lot of romantic things for me all the time." she says. "He's brought me flowers to my house before, he takes me out to really, really nice restaurants, buys me dinner all the time. He's just a great guy."
And while four of their five costars have stayed single since the show wrapped,
Jenni "J-WOWW" Farley
, has reconciled with her boyfriend
Tom
, and he moved in four months ago.
"It's great," she tells PEOPLE of domestic life. "He became my best friend, so we do everything together. The house is messier, but in every other aspect, he makes everything easier."
As for the night she and costar Pauly D hooked up on camera, Farley says it's water under the bridge and that her boyfriend and Pauly D shook hands like gentlemen.
"[They're] cool out of respect," she says. "[Any trouble] was, I guess, over with."
Will Giancola and Magro follow suit and move in together? Says Giancola: "We're just taking things one day at a time."
–Lesley Messer